2016 Reading Challenge
Hello Friends!
So, somehow it is March, and I have 4 papers due this week, and so I might be procrastinating, but I thought this was the perfect time to talk to you about my 2016 Reading Challenge. Possibly I am 2 months too late, but you know…
The plan was to read 52 books in 52 weeks, from 12 categories. My intention was to broaden my reading. I have a tendency to only read books that are in my favourite genre (dark, thrillery fiction) and I wanted to mix it up a little. I kept track of my reading on the paper you see below. I hung it on the side of my fridge, and I think that it helped keep me organized and motivated. (I've made one to track my 2017 Reading Challenge books too, but I'll tell you about that in another post. :)) As you can see, I fell short of my 52 books. I'm kind of sad about that, but at the same time, life is crazy and I would rather enjoy a book than race through it just to finish. I'm also a little disappointed in myself that I leaned pretty heavily on old favourites – genre and female writers. But I do feel pretty good about the new authors that I read this year, and the books with not-white main characters. When your reading time is precious, it's easy to go back to authors you know you like, and I would definitely add A.M. Justice and Waubgeshig Rice to my future to-read pile.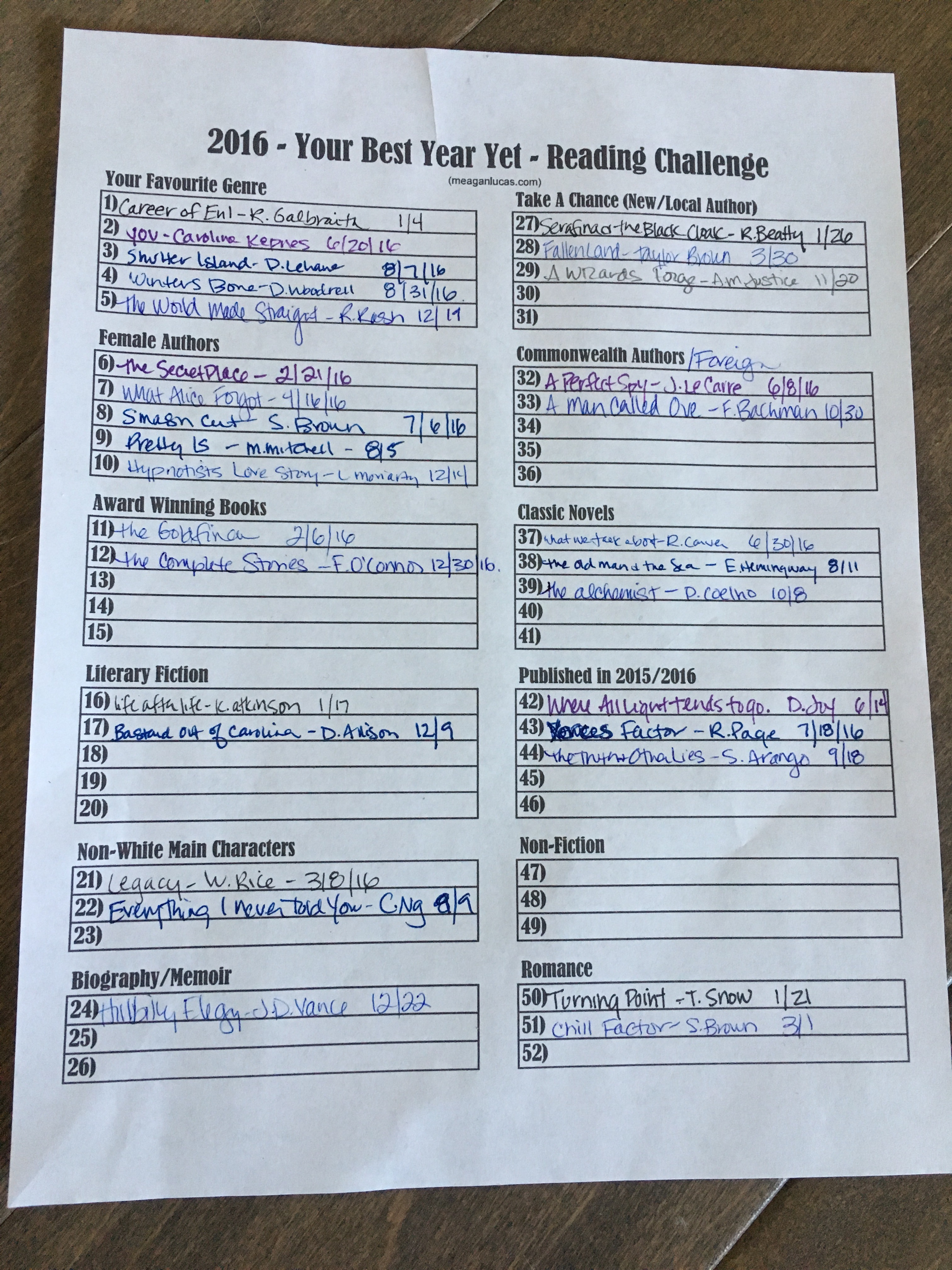 Briefly:
Best Book: Winter's Bone – Daniel Woodrell
Runner's Up: The World Made Straight – Ron Rash, Where All Light Tends to Go – David Joy, Bastard out of Carolina – Dorothy Allison
Book I thought would never end: A Perfect Spy – John LeCarre
Biggest Disappointment: Serafina and the Black Cloak – Robert Beatty