2016 – Your Best Year Yet – Reading Challenge
Happy New Year!
I don't know about you, but the first of the year is a time that I want to make plans. New Years Eve is about reflection, New Years Day is about action.
One of the challenges I've set for myself this year is to read 52 books in 52 weeks. I did it last year and I struggle to put into words the positive change that it made in my life. Pushing myself to read a lot of books make me make time in my already busy life for me. Reading books that are outside of my usual fare made me think about different perspectives and issues that I don't usually ponder. Not to mention just the joy and pride that comes from setting and meeting a goal. So,  this year I'd like to do it again, however…. 🙂
Last year I used the Popsugar challenge as a guide (you can read all about my reading last year here, here, and here) but I found it frustrating. I enjoyed that it made me read books that I'm not normally drawn to, but really, does it matter if I read a book with a number or a color in the title? I felt like it was impossible to bust my stash of unread books when the categories were so specific. My reading became sluggish when faced with only unappealing options. I also felt the the stringency of the categories made me want to rebel, and not play within the spirit of the challenge.
So, when I was thinking up my challenge for this year, I thought about what I'm naturally drawn to – thrillers and mysteries, and I let myself have some of those. The first category in the challenge is 5 books from your favourite genre. That doesn't mean that you can't squeeze more of those in in other categories, but at least you know 10% of your challenge will be books that you're going to love. The following categories stem from my desire to read more broadly – female authors, award winning and literary novels, non-white main characters, new and local authors, commonwealth authors, classic novels, new novels, and some nonfiction. (I threw a little romance in there cause my husband likes it when I read steamy books.)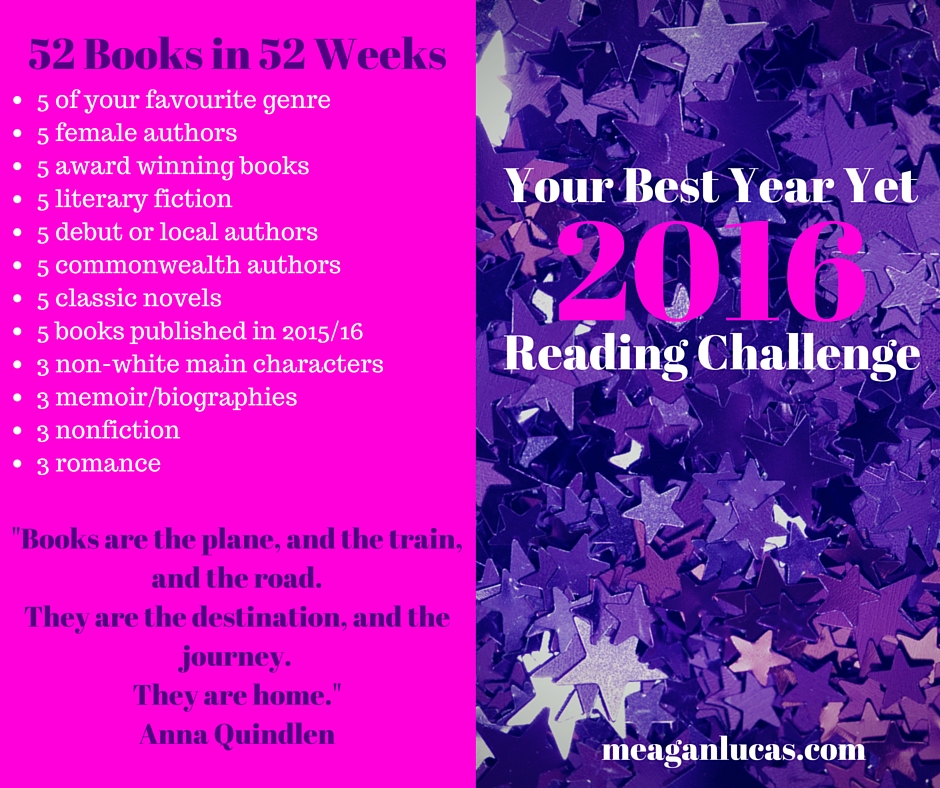 I feel like this reading challenge will encourage me (and hopefully you) to keep reading. To put down your phone and pick up a book. The categories are broad enough that you can bust your unread pile, and always find something that you're excited to read, but should also encourage trying something new.
If you want to read along with me, below is a link to a printable PDF where you can keep track as you plow through. Also, I want to hear from you. Your successes and your challenges. Please comment or email me! I want to hear from you!
Get reading friends! Get reading!