I've shared my goal to get 100 rejections last year before. Well, I failed. In 2017, I received 76 rejections. 76 painful "no's." Some of them were terrible – one journal asked me to revise the ending of a story to fill it out – I didn't want to, but I did – they still didn't take it. (I can't even tell you how frustrating this is.)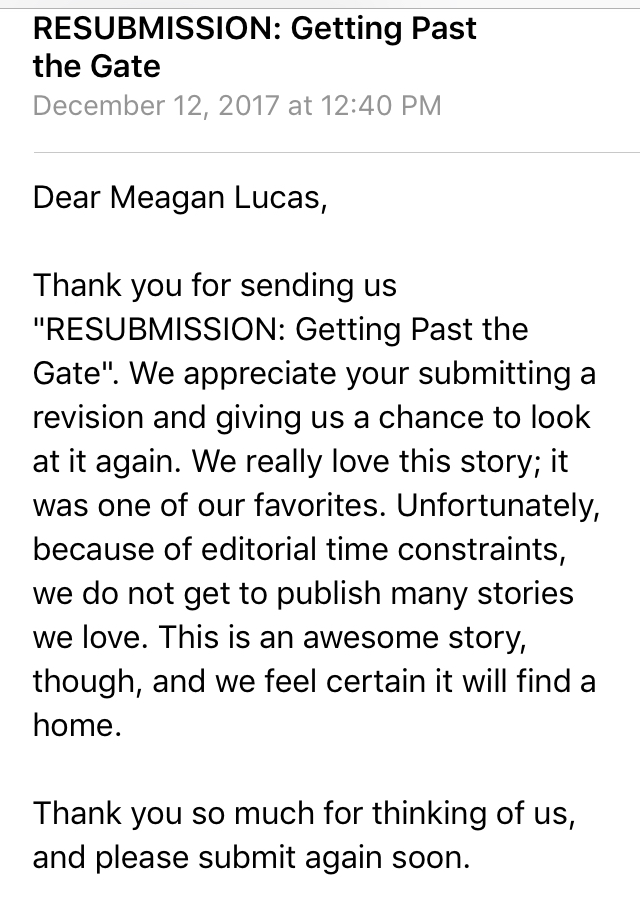 Others were kind, and encouraging: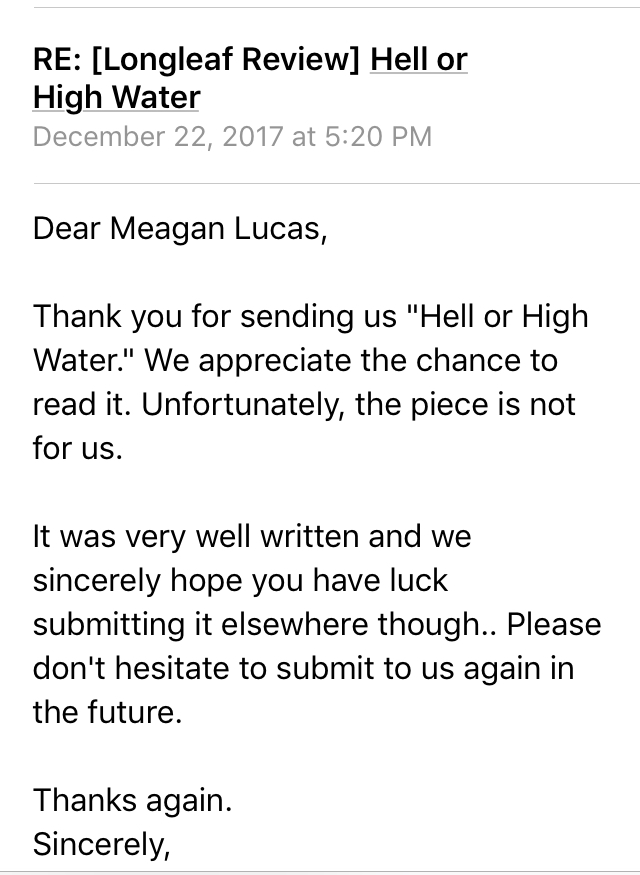 And then, loads of them were just generic "nope."
However, I still feel pretty good about it.
Collecting rejections is a mind game – it helps me play both sides, it helps me feel accomplished and like I'm moving forward no matter what the response to my story is. But, it's also a kick in the pants. It encourages me to send my stories to journals and contests even though I feel like I have no chance of winning. It forces to me to keep my eyes open for opportunity and has pushed me to try new things. It keeps me writing because I need to have stories to send out – I can't collect 100 "no's" with 1 story! This year I have the same goal, and already I'm waiting to hear back about an author award, a novel contest, and a residency in addition to my short story journal submissions.
Hearing "no" is not the end. It's the beginning. It's the evidence that I'm trying, and that's where it starts.
I got rejected 76 times, but, I published 4 stories, and I have 2 more forthcoming in 2018.
I got rejected 76 times, but, I won 3 contests and earned $2,300 in prize money/scholarships.
I got rejected 76 times, but, every time "no" got just the tiniest bit easier.
I got rejected 76 times, but, I met a number of terrific editors, made connections in the business, and got pushed out of my comfort zone (I made videos y'all).
I got rejected 76 times, but, I am better now.