Review: The Dinner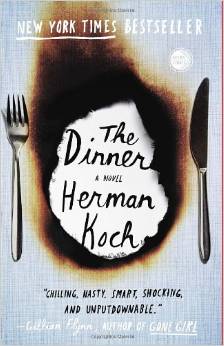 I should have known better – I know. I read Koch's Summer House with Swimming Pool last year, and hated it. Hated it in ways that should have made me realize that I should just skip Koch all together. I thought SHWSP was boring and had really, terribly unlikable characters. My criticism of The Dinner is the same.
It is the story of two brothers and their wives meeting for dinner to discuss the horrible thing that their children have done, and how far each person will go to protect themselves and their family units. I thought it was a promising premise. I love food. I love eating out. I love thrillers. This book sounded right up my alley. Plus – right on the cover is an endorsement from Gillian Flynn. I know, I know, blurbs and endorsements mean almost nothing, but I like Gillian Flynn, I think we share a love of the gritty and twisty. This book was also hailed as the "European Gone Girl" by the Wall Street Journal. Anyway, long story short, I had high hopes.
Characters, again, seem to be an issue for me with Koch. For the first half of the book I really didn't like Paul, the protagonist. I found him to be whiny and petty and really hard to relate to. His wife Claire was almost invisible to me – she's just the generic Mom that male writers seem to like to portray. I was interested in Paul's brother Serge, a politician aspiring to be Prime Minister, and his wife Babette had hints of something sparkly about her. By the middle of the book Paul got a smidgen more interesting – it was revealed that Claire had been really sick at one point and that Paul has rage issues that have forced him out of his career. But by the end of the book these struggles don't endear them to us, but rather convince us that they truly are terrible people.
The worst part is that they are terrible people in the most boring way. They aren't serial killers or money launderers, or drug smugglers. They are closet racists, and liars.
There is a twist at the end of the book. I won't tell you what it is because I don't want to ruin everything. But I will tell you that it doesn't live up to suffering through the rest of the book.
You can skip this meal.