Review: The Likeness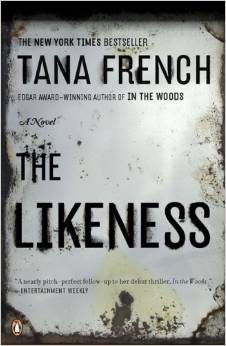 If I could die and come back as any writer, I would come back as Tana French. God, she knows what she is doing.
The Likeness is the second book in her "Dublin Murder Squad" Series. I read the first, Into the Woods last year and love, love, loved it. Loved it so much that I put the rest of her books on my Christmas list. The Likeness is no different. It is the story of Cassie Maddox who was a secondary character in Into the Woods. She is a Detective in the DV unit (after burning out of Murder Squad) who looks just like a girl who has been murdered. She goes undercover as the deceased girl to try to lure the murderer. She puts herself, her mental health, and her relationship with her boyfriend in danger. It's freaking amazing.
You really just have to read it.
Seriously.
French really rides the line between genre fiction and literary fiction. The story is juicy and dark and suspenseful, but the prose is gorgeous. Unlike other murder mystery stories, I feel smarter for reading it. I'm not ashamed to be seen in a waiting room carrying a French novel. There is enough navel gazing by the protagonist so that you feel like you get inside her head, but not so much that it is boring or repetitive. The characters feel real and broken in ways that make them relate-able. I also really enjoy that French's stories don't revolve around monsters, or villains that are larger than life, but real people who do terrible things.
Go, read it!