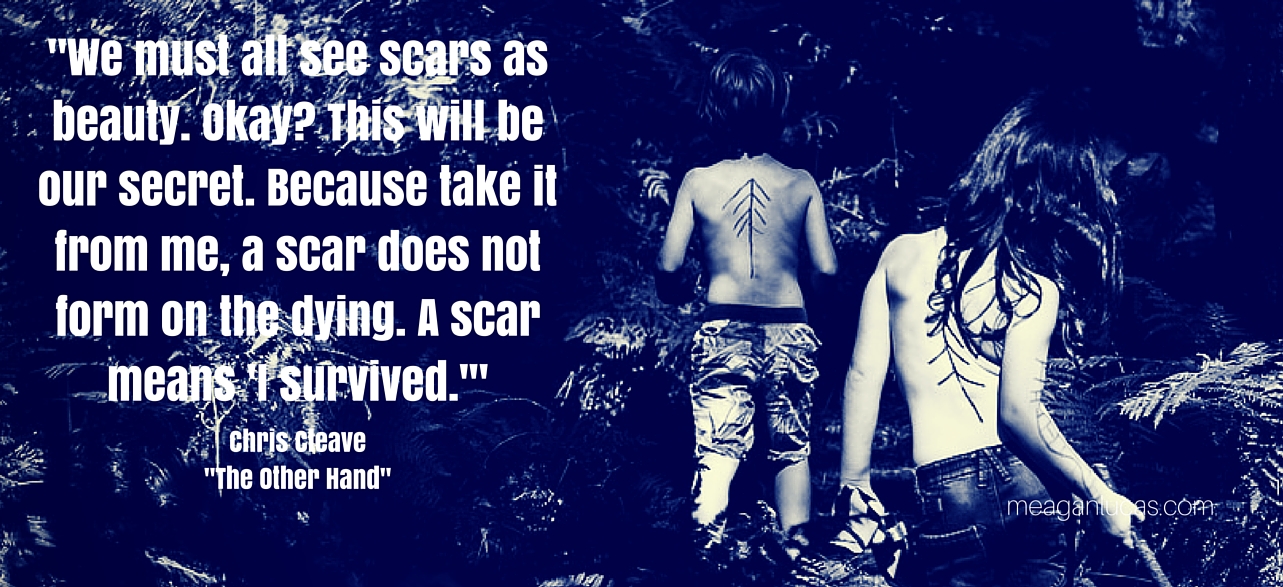 Months ago, as I started closing in on 100lbs lost, I started thinking about how I was going to mark that occasion. At 50lbs, I went for pedicures with my Mom. But 100 felt like it needed something more. Not only is it a big number, but it's pretty darn close to my goal weight, so it's not like I have a lot of weight loss milestones ahead of me. So, it needed to be good.
Then I knew – a tattoo.
Tattooing has this incredible ability to tie you to a specific time and place. I already have a couple, and my memories of those moments are so clear and close. I have a very classy tramp stamp that I got when I was 18 and stupid with my high school boyfriend.  I can still see the look on his face, and feel his hand in mine as the first lines went in. And one on the inside of my right ankle that I got while I was away at college when I was 20 with my first year roommate – the discovery of freedom and adulthood a heady rush. (My brother has since gotten the same design that I have on my ankle tattooed on his back, which I think is super cool.)I haven't gotten one since, because it's always felt like an unjustifiable expense. After I got married, and we started sharing money, it always seemed very self centered to spend 'our' money on art for my skin. Until now. This was something special.
So, a tattoo, yes, for sure. But what? And where? I've spoken before about what a major weight loss does to your body, so that played a large role in choosing the location. I don't want it to be anywhere that potentially might be nipped or tucked in the future, and the skin needs to be uncompromised – I've seen tattoos over stretch marks, and it's not pretty.  I also wanted it to be somewhere that I could show it off without having to dress like a hooker, but also somewhere easily cover-able, should the need arise. I started thinking about a thigh piece, and then a large thigh piece, and then a thigh piece that has the potential to creep up to my hip, and down to my ankle, should the spirit move me. And, I knew I had my spot.
The "what" took a little longer. What do I love? What will stand the test of time? What am I drawn to? Flowers. Graphic ones. Feminine. Recognizable. And maybe a little bit bold. I'm no shrinking violet, right? I don't want those on my leg. So, I filled my pinterest board with images that I liked. And then I waited, cause I'm a little bit chicken.
Then a girl at Josh's work got a tattoo from an artist named Phil, and the bug bit me. Then another girl, and another. And they told us about their great experience and his great work, and Josh brought me home his card.
I might have played it cool for 12 hrs before I emailed Phil. What resulted was a very collaborative and easy conversation via email and text about what I wanted to do, and how he could help me. A piece as large as I want will take numerous sittings, but Phil wasn't afraid or impatient. It's possible too that I've changed my mind a couple of times, and Phil was cool about that too.
The first sketch that he drew from my ideas sold me.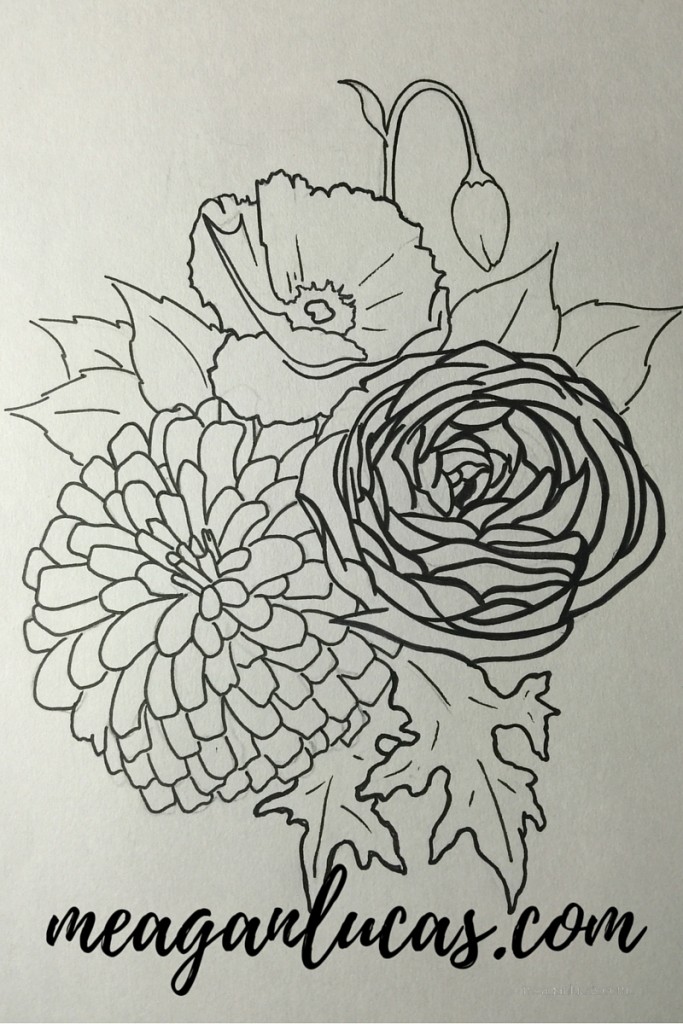 We made an appointment for me to come in this past Saturday get started. But even then Phil wasn't pushy, if I liked it – we move forward. If I didn't, we could work on the design more. More than anything else, he wanted me to be happy with what was on my body. I felt relief and excitement.
On Saturday Josh and I showed up at Liquid Dragon and were pleasantly surprised at the niceness and cleanliness of the shop. Course, we are talking tattoo shops here, it isn't a spa, but it is the nicest tattoo shop either of us have been in.  Phil came out, we talked, he answered questions and was very chill. No pushiness. No salesman. I asked for the image to be flipped – no problem. We got to work. Well, he got to work, I got to sitting.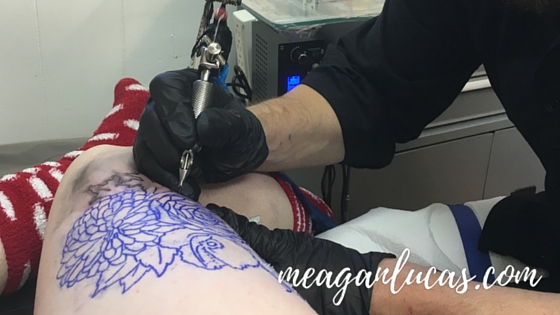 The pain of tattooing is strange. For me, it's slow build. At first, during the outline, it's just mildly uncomfortable. (felt like plucking your eyebrows) I'm still able to chat with Phil about TV shows, and food, and the subjectivity of art. When the outline was done, which was all we'd planned to do in this sitting, I was still pumped up. Phil was a trooper and I was still game, so we started in on the color. By the last flower I was ready to be done. After almost 4 hours I was tired of sitting. My butt hurt. The adrenaline had worn off and I was squeezing Josh's hand and working really hard to keep my toes from trembling. (felt like a too long bikini wax)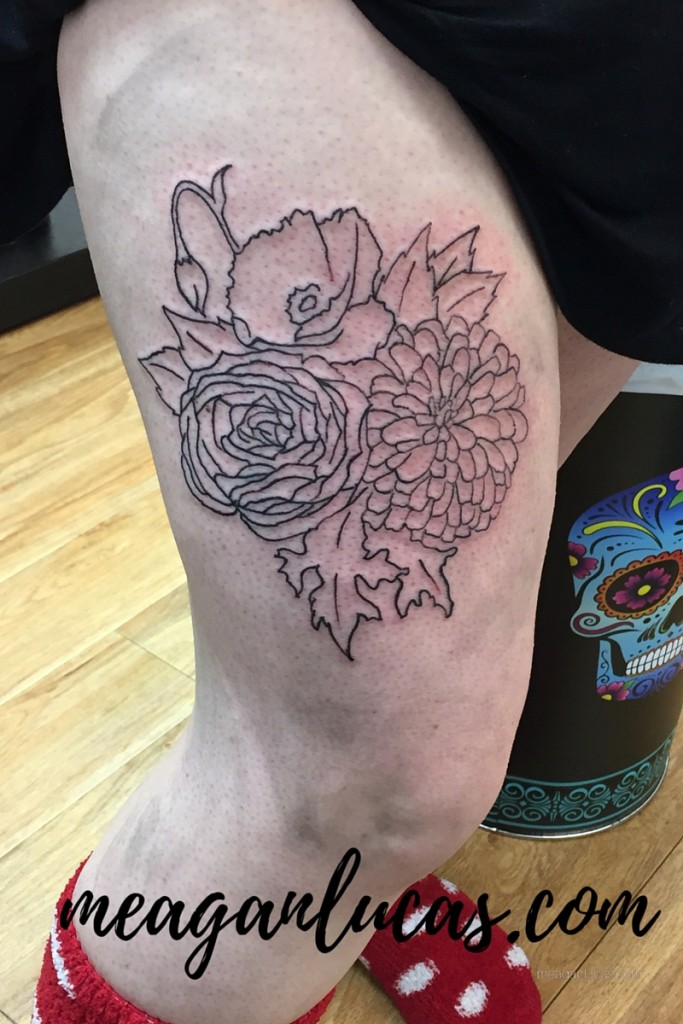 Throughout the process Phil was terrific. He'd already been the easiest and most collaborative artist I'd ever dealt with, but he's also super nice and easy to talk to. I didn't feel weird or uncomfortable at all, even when he was working on my bare thigh. He was nice about modesty without making me feeling repulsive, (is it only me who feels like if a guy is too worried about my modesty it's cause he thinks I'm an ogre?)  it was clear that he was most concerned about my comfort, which was awesome. When I started squirming and tensing, he was very sensitive and understanding, we decided to call it a night. After finishing up the color in the third flower and getting some care instructions, Phil sent us home with the plan to come back in a few weeks to finish the leaves and shade the flowers.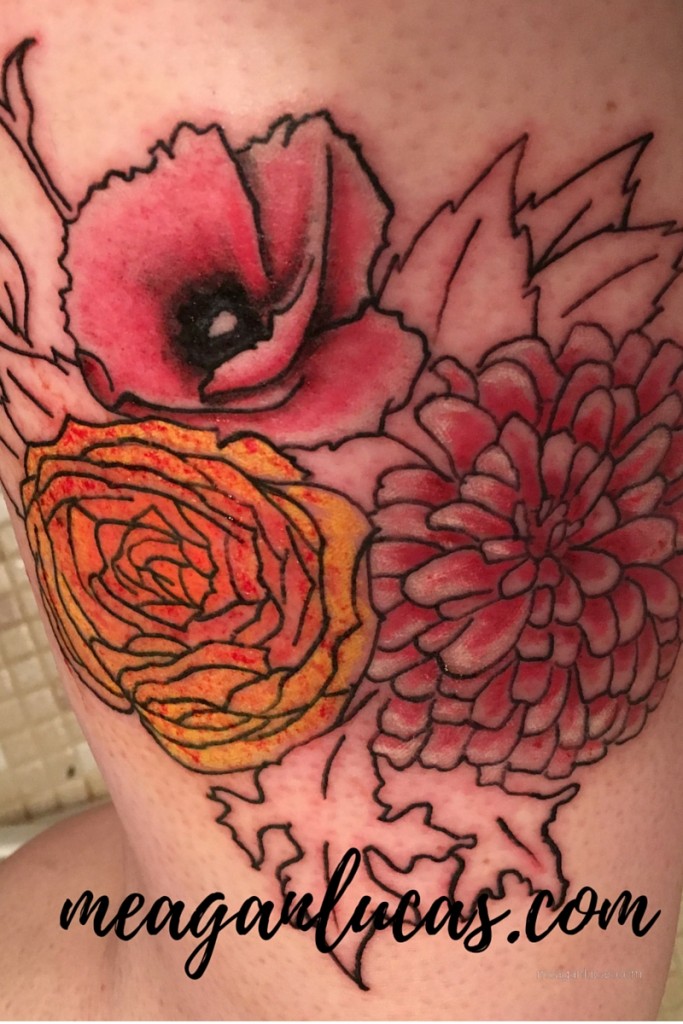 Josh and I planned our future tattoos all the way home and talked about how we could totally be friends with Phil and his girlfriend.
I'm smitten and I have to work hard not to be gushy about how much I love my new tattoo. Seriously. And, it's not even done yet.
I really can't say enough good things about Phil. He was easy to work with.  He's gentle. He does a really good job. He's a perfectionist and is always looking to improve. I'm so happy with my tattoo so far.  It's not even finished and already I'm in love. He's nice and normal and easy to talk to. I'd be happy to go back to that shop by myself, and that's not something a woman normally says about a tattoo shop. He really wants you to be happy, and I love that.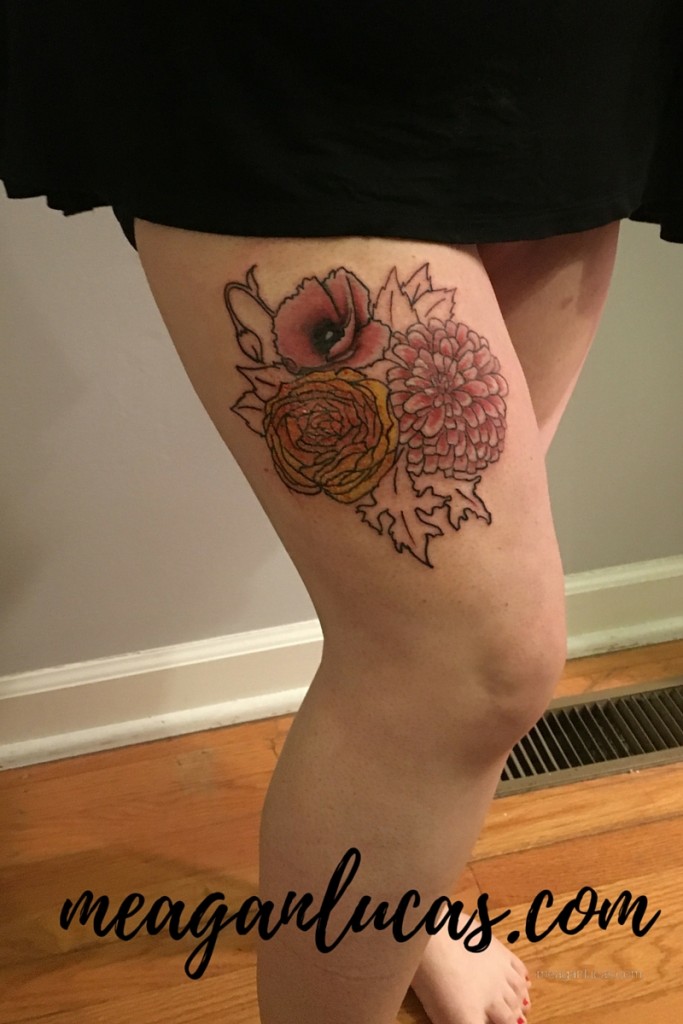 Carrying 100 extra lbs isn't something I'll ever forget. The stretch marks, scars (current and future – yay! tummy tuck!) and sagging won't let me. But these flowers on my thigh, are about more than the weight that I used to carry. They mark how strong, and brave, and tenacious I can be, I have been, to accomplish losing so much.
If you're looking for a tattoo – you should go to Liquid Dragon in Asheville. Both Phil and his boss Robert are great. If you want to get a hold of Phil – philsink77@gmail.com. You should. If you have any questions or comments for me, I'd love to hear from you – leave me a comment, follow me on facebook or drop me an email. I look forward to hearing from you.