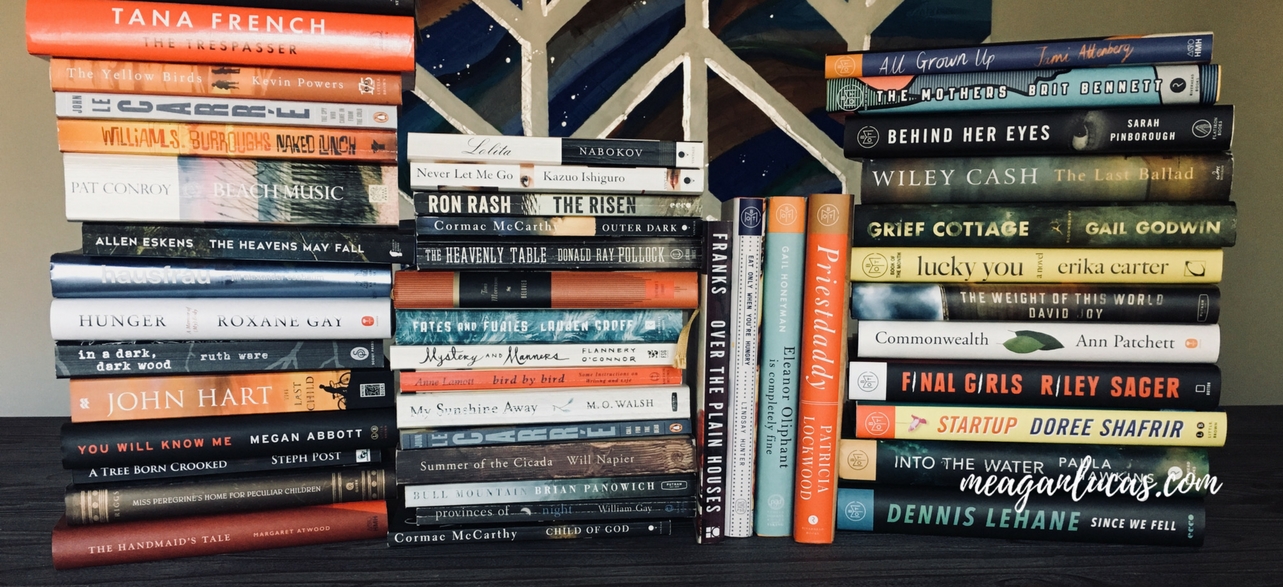 I love reading. Possibly, it seems a little silly that every year one of my New Year's Resolutions is to read more. But.. as you know… I want to be a writer, and according to Stephen King, one of the biggest rules for writers is to read – constantly and voraciously. According to Mr. King, if you don't have time to read, you don't have time – or the tools, to write, and I completely agree. (It of course helps that he is telling me that I HAVE to do something that I love to do. Sort of like my doctor telling me that what I really need to do to be healthier is to drink more wine and eat more cheese. But anyway…..)
This year has been a big one for me. On top of life, and kids, and a husband who cooks all the meals but occasionally likes me to vacuum, I started the MA in English and Creative writing at SNHU last January, and I made the goal of 100 story rejections. So… I set my 'pleasure reading' goal lower than I have in the past. In 2017 I was aiming to read 36 books, I read 46.
The Trespasser – French
Lolita – V. Nabokov
Child of God – C. McCarthy
Provinces of Night – W. Gay
All the Ugly and Beautiful Things – B. Greenwood
Bull Mountain – B. Panowich
All Gown Up – J. Attenburg
Summer of the Cicada – W. Napier
Behind Her Eyes – S. Pinborough
Commonwealth – A. Patchett
Heart of Darkness – J. Conrad
Beloved – T. Morrison
The Mothers – B. Bennett
Since We Fell – D. LeHane
Bird by Bird – A. Lamott
Mystery and Manners – F. O'Connor
Fates and Furies – L. Groff
Into the Water – P. Hawkins
The Handmaid's Tale – M. Atwood
Miss Peregrine's School – R. Riggs
A Tree Born Crooked – S. Post
The Weight of This World – D. Joy
Start Up – D. Shaffrir
You Will Know Me – M. Abbot
The Last Child – J. Hart
In A Dark Dark Wood – R. Ware
Final Girls – R. Sagar
Hunger – R. Gay
Heavenly Table – D.R. Pollock
Outer Dark – C. McCarthy
The Risen – R. Rash
The Heaven's May Fall – A. Eskens
Grief Cottage – G. Godwin
Beach Music – P. Conroy
Hausfrau – J. Essbaum
Lucky You – E. Carter
Yellow Birds – K. Powers
The Last Ballad – W. Cash
And the Mountains Echoed – K. Hosseini
Never Let Me Go – K. Ishiguro
The Spy That Came In From The Cold – J. Le Carre
Over the Plain Houses – J. Franks
My Sunshine Away – M.O. Walsh
Eat Only When You're Hungry – L. Hunter
Elinor Olyphant is Completely Fine – G. Honeyman
Priestdaddy – P. Lockwood
High/Low Lights
Worst Book – All the Ugly and Beautiful Things – This one best book of 2016 on Book of The Month and I was terribly disappointed. I didn't like any of the characters, the plot felt contrived and unoriginal (it's a retelling of Beauty and the Beast) and the writing was just meh. I think that a lot of people would have been turned off by the age difference between the two romantic leads, that didn't bother me. As you'll see later in this list, I like dark. However, the creepiness of that age difference seemed like a gimmick, and that makes my skin crawl.
Most Disappointing – Since We Fell or The Mothers, both of these books got big hype – I loved LeHane's Shutter Island, but found both of these books to be underwhelming.
Best Books I read this year, in no particular order:
Weight of This World – David Joy – Joy is a local writer, he writes about what life is actually like for some of the people living in Western North Carolina. His writing is gritty, and often times nauseating. There are times when I want to hug him and tell him that there are soft things, there are kind people, but when I read him, I feel like he is telling me the truth, even if I don't want to hear it.
Child of God and Outer Dark – Cormac McCarthy – spectacularly dark stories about the human condition, written in McCarthy's signature spare style. They are riveting, terrorizing, and unforgettable.
And the Mountain's Echoed – Khaled Hosseini – a beautiful, hopeful (I know, Mom! Hopeful!) story about family written in a very interesting style. I find this plot structure fascinating.
Memoirs – Priestdaddy by Patricia Lockwood is about being raised in a Conservative Christian household and Hunger by Roxane Gay is about weight, and specifically weight as a reaction to trauma, and they really connected with me this year. They made me feel like my experiences are worthwhile stories, and that I'm not alone.